White Bean Pate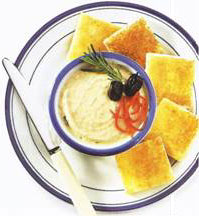 Serves 6
26 oz (800 g) canned cannellini beans, drained
2-3 garlic cloves, coarsely chopped
1 tbsp chopped fresh rosemary
3 tbsp olive oil
juice of 1 lemon
salt and black pepper
TO GARNISH
6 rosemary sprigs
1 red pepper, cored, seeded, and cut into strips
12 small black olives
STEPS :
Puree the cannellini beans, garlic, rosemary, oil, and lemon juice in a food processor or blender until smooth.
Add salt and pepper to taste, then spoon the mixture into6 small dishes, and level the surfaces.
Garnish each pate with a rosemary sprig, strips of red pepper, and 2 olives.
* * * Cook's know-how * * *
Before choppingjresh rosemary, strip the leaves from the woody stems and discard the stems.