Sardine Pate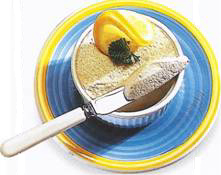 Serves 8
8 oz (250 g) canned sardines in oil, drained, bones removed
I /2 cup (125 g) butter, softened
1/2 cup (125 g) lowjat cream cheese
3 tbsp lemon juice
black pepper
lemon twists and parsley sprigs to garnish
STEPS :
Puree the sardines, butter, soft cheese, and lemon juice in a food processor until almost smooth. Add pepper to taste and a little more lemon juice if needed.
Divide the sardine mixture among 8 small ramekins (or put into 1 large bowl) and level the surface. Cover and chill in the refrigerator for at least 30 minutes.
Serve chilled, garnished with lemon twists and parsley sprigs.

SHRIMP PATE
Substitute 1/21b (250 g) cooked peeled shrimp for the sardines, and proceed as directed.