EGGPLANT DIP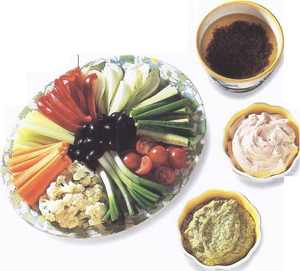 Serves 4
1 1/2lb (750 g) eggplant
salt and black pepper
2 shallots, halved
1-2 garlic cloves
4 tbsp lemon juice
4 tbsp olive oil
4 tbsp chopped parsley
2 tbsp tahini paste
STEPS :
Cut the eggplant in half lengthwise. Score the flesh in a lattice pattern, sprinkle with salt, and leave to stand for 30 minutes.
Rinse the eggplant halves with cold water, and pat them dry with paper towels. Place on a baking sheet and bake in a 4000F (200°C) oven for 20•minutes.
Add the shallots and garlic to the baking sheet, and bake for 15 minutes.
Puree the eggplant, shallots, and garlic with the lemon juice, oil, parsley, tahini paste, and salt and pepper to taste in a food processor until smooth.
Turn the dip into a bowl. Cover and chill for at least 1 hour before serving.
TARAMASALATA
Serves 4
1 lb (500 g) smoked fish roe, skinned and coarsely chopped
4 small slices oj white bread, crusts removed
4 tbsp lemon juice
1 largegarlic clove, coarsely chopped
1 1/4 cups (250 ml) olive oil
salt and black pepper
STEPS :
Puree the fish roe in a food processor or blender until smooth.
Break the bread into a bowl, add the lemon juice, and let the bread soak for 1 minute. Add to the roe with the garlic, and puree until smooth.
Pour the oil into the mixture, a little at a time, and puree until all the oil has been absorbed. Add salt and pepper to taste.
Turn the taramasalata into a bowl. Cover and chill for at least 1 hour before serving.
BAGNA CAUDA
Serves 4
3/4 cup (150 ml ) olive oil
3 tbsp butter
2 garlic cloves, crushed
2 oz (60 g) canned anchovy fillets, drained and chopped
black pepper
STEPS :
Heat the oil and butter in a skillet, add the garlic, and cook gently, stirring occasionally, for a few minutes until soft but not browned. Add the anchovies and cook over very low heat until they dissolve in the oil. Season with black pepper.
To serve, transfer the bagna cauda to an earthenware pot placed on a chafing dish, or to a fondue pot.