Spicy Meatballs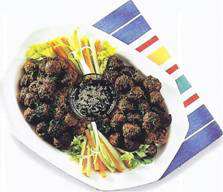 Serves 6
2 lb (1 kg) lean ground beef
1 small onion, grated
2 garlic cloves, crushed
1 egg, beaten
1 1/2 cups (90 g) fresh bread crumbs
2 tbsp tomato paste
2 tbsp paprika
2 tbsp chopped fresh cilantro
salt and black pepper
3 tbsp olive oil for frying
chopped parsley to garnish
crudites to serve
SESAME DIP
2 tbsp soy sauce
2 tbsp dark sesame oil
1 tbsp rice wine or sherry
1 scallion, thinly sliced
1 tbsp sesame seeds, toasted
1/4 tsp ground ginger
STEPS :
Make the sesame dip: whisk all the ingredients together and set aside.
Combine the meatball ingredients in a bowl. Using your hands, roll the mixture into little balls.
Heat the oil in a skillet, and cook the meatballs, in batches, over medium heat for 5 minutes or until firm and cooked through. Garnish, and serve warm with the dip and crudites.