Asparagus With Quick Hollandaise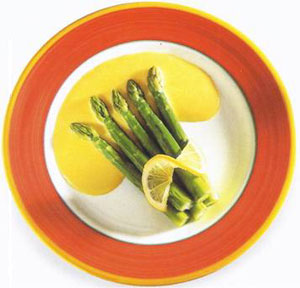 Serves 4
l 1/4 lb (625 g) asparagus
salt and black pepper
lemon twists to garnish
QUICK HOLLANDAISE
2 1/3 cups (600ml) hot water
1 tbsp lemon juice
1 tbsp white vinegar
4 egg yolks, at room temperature
10 tbsp (150 g) unsalted butter, melted
STEPS :
Trim the asparagus, cut off the woody ends, and tie into 4 bundles with string.
Stand the asparagus upright in a deep pan with enough boiling salted water to come halfway up the stems, allowing the tips to steam rather than boil. Cover and cook for 8-10 minutes, until the asparagus is tender but still firm
Meanwhile, make the quick hollandaise: put the measured hot water into a food processor or blender and process briefly to warm the bowl. Discard the water and dry the bowl.
Put the lemon juice and vinegar into the food processor, add the egg yolks, and process briefly. With the . machine running, gradually pour in the melted butter, and process until thick and creamy. Season to taste.
To serve, drain and untie the asparagus. Ladle the hollandaise sauce onto warmed plates, arrange the asparagus on top, and garnish with lemon twists.
Asparagus
One of the most prized of all vegetables, asparagus is a harbinger of spring in supermarkets across the country. Select spears with a good color, that are crisp, straight, and firm with tightly closed tips. Ideally, asparagus should be cooked and eaten on the day it is bought, but if you need to keep it longer than 12 hours, wrap the bottoms of the stalks in wet paper towels, seal tightly in a plastic bag, and store in the refrigerator. Use within 4 days.