Jumbo Shrimp With Aioli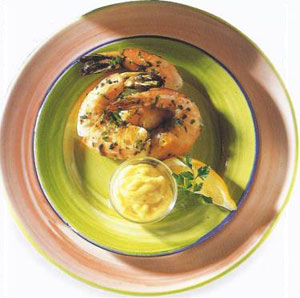 Serves 4
2 tbsp olive oil
12 uncooked jumbo shrimp in their shells
1 tbsp chopped parsley
lemon wedges and flat-leaf parsley sprigs to garnish
AIOLI
2 garlic cloves, coanely chopped
salt and black pepper
1 egg yolk
1 tsp dry mustard
2/3 cup (150 mi) olive oil
1 tbsp lemon juice
STEPS :
Make the aioli: in a small bowl, crush the garlic with a pinch of salt until it forms a smooth paste. Add the egg yolk and dry mustard, and beat well. Beat in the oil, drop by drop, whisking constantly until the mixture is thick and smooth and all the oil has been absorbed. Beat in the lemon juice and add pepper to taste.
Heat the oil in a large skillet, add the shrimp, and toss over high heat for 4-5 minutes until the shells turn bright pink. Remove the shrimp from the skillet and drain on paper towels.
To serve, arrange the shrimp on warmed plates, sprinkle with chopped parsley, and garnish with lemon wedges and parsley sprigs. Serve with individual bowls of aioli.
AIOLI
This is a garlic-fiavored mayonnaise from Provence, where it is served with cold fish, hard-boiled eggs, cold meats, and fish soups.