Spicy Chicken Wings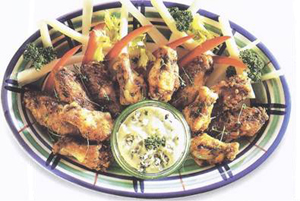 Serves 4 - 6
1 lb (500 g) chicken wings
2 tbsp sunflower or corn oil
1 tsp lemon juice
1 tsp onion salt
1 tsp garlic powder
1 tsp ground cumin
1/2 tsp dried oregano
1/2 tsp mild chili powder
1/2 tsp paprika
1/4 tsp cayenne pepper
black pepper
parsley sprigs and radish
sprouts (optional) to garnish
TO SERVE
1/2 red pepper, cut into strips
1/2 head celery, cut into sticks, plus leaves
blue cheese dressing
STEPS :
Cut the chicken wings in half. Arrange in a shallow dish.
In a large bowl, combine the oil, lemon juice, onion salt, garlic powder, cumin, oregano, chili powder, paprika, cayenne pepper, and black pepper to taste. Brush the mixture over the chicken, cover, and leave to marinate in the refrigerator, covered, for at least 1 hour.
Line a large baking sheet with foil and place a rack on top. Arrange the chicken wings in a single layer on the rack, and cook in a 400癋 (200癈) oven for 40 minutes, or until browned, sizzling hot, and crispy.
Remove the chicken from the rack and drain on paper towels. Serve with red pepper strips, celery sticks, and blue cheese dressing and garnish with parsley, and radish sprouts if desired.

Cutting a chicken wing in half
Tilt the chicken wing, raising the double end slightly off the cutting board. Using a chef's knife, cut the chicken wing into 2 pieces at the main joint, making a drumsticklike piece and a miniwing.