Nachos Grande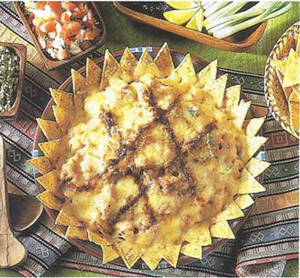 Serves 4 - 6
2 tbsp sunflower or corn oil
1 onion, finely chopped
1/2 green pepper, chopped
3 garlic cloves, crushed
1/2 cup (125 g) canned chopped tomatoes
1/2 -1 fresh green chili, cored, seeded, and finely chopped
1/2 tsp chili powder
1/2 tsp paprika
13 oz (400 g) canned refried beans
5 tbsp (75 ml) water
2 cups (75 g) tortilla chips
1/4 tsp ground cumin
1 1/2 cups (175 g) grated Cheddar cheese
paprika to garnish
STEPS :
Heat the oil in a skillet, add the onion, green pepper, and garlic, and cook gently, stirring occasionally, for 5 minutes or until soft but not browned.
Add the tomatoes and chili and cook over medium heat for 5 minutes, or until most of the liquid has evaporated.
Stir in the chili powder and paprika and cook for 3 minutes, then add the refried beans, breaking them up with a fork. Add the measured water and cook, stirring occasionally, for 8-10 minutes, until the mixture thickens.
Spoon the beans into the middle of a baking dish, arrange the tortilla chips around the edge and sprinkle with cumin. Sprinkle the cheese over the beans and tortilla chips.
Bake in a 400癋 (200癈) oven for 15-20 minutes until the cheese has melted. Sprinkle the paprika in a lattice pattern on top and serve immediately.
Tortilla chips
These are traditionally made from round, flat, soft tortillas that are cut into segments and deep-fried. When covered with melted cheese and perhaps refried beans, salsa, or other toppings, the dish is known as nachos.