Russian Fish Salad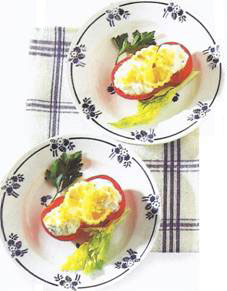 Serves 4
2 hard-boiled eggs
10 oz (300 g) firm whitefish fillets, cooked
3 tbsp sour cream
3 tbsp mayonnaise
1 tbsp chopped parsley
salt and black pepper
2 large tomatoes, quartered
lemon twists, flat-leaf parsley sprigs, and celery leaves to garnish
STEPS :
Remove the yolk from one egg and reserve. Chop the white and the remaining egg.
Put the fish into a bowl and flake with a fork. Stir in the chopped egg, sour cream, mayonnaise, parsley, and salt and pepper to taste.
Arrange the tomatoes on 4 plates and top with the fish mixture. Push the egg yolk through a strainer and sprinkle over the mixture. Garnish with lemon twists, parsley, and celery leaves.