Warm Salad With Bacon & Scallops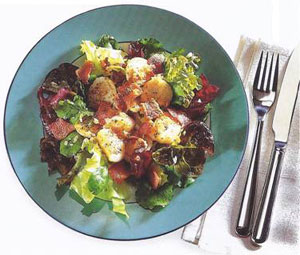 Serves 4
8 cups (375 g) mixed salad greens, such as radicchio, mdche, curly endive, and arugula
8 shallots, finely chopped
1 tbsp sunflower or corn oil
1/2 lb (250 g) lean bacon, diced
12 scallops, halved
3 tbsp white vinegar
2 tbsp walnut oil
salt and blach pepper
STEPS :
Put the salad greens into a large bowl and sprinkle with half of the shallots.
Heat the oil in a skillet, add the bacon, and cook quickly, stirring occasionally, for 5 minutes or until crisp. Add the scallops and cook quickly for 1-2 minutes, until just opaque. Remove the bacon and scallops from the pan and keep warm.
Add the remaining shallots to the pan and cook for 1 minute. Add the vinegar and boil rapidly, stirring to incorporate the pan juices.
Toss the salad with the walnut oil. Add the bacon and scallops, hot vinegar and shallots, and season to taste.

Tossing a salad
Pour the oil over the salad leaves. Lift a portion of the leaves and turn them over as you drop them back into the bowl. Repeat until all the leaves are coated evenly.
* * * Cook's know-how * * *
Stirring vinegar into the skillet loosens and dissolves the flavorful juices on the bottom of the pan so they are not wasted. This is called deglazing.