Shrimp Blini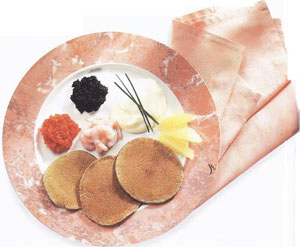 Serves 6 - 8
BLINI
1 cup (125 g) all-purpose flour
1 cup (125 g) buckwheat flour
1/2 tsp salt
1/2 tsp quick-rise dried yeast
1 3/4 cups (450 ml) milk, warmed
1 egg, separated
sunflower or corn oil for frying
TO SERVE
2 2 1/2-0Z (75-g) jars lump fish caviar (1 red, 1 black)
1/4 lb (125 g) cooked peeled shrimp
lemon wedges and fresh chives to garnish
STEPS :
In a large bowl, mix together the plain and buckwheat flours, salt, and quick-rise dried yeast.
Gradually beat in the warm milk to make a smooth batter. Cover and leave in a warm place for about 40 minutes until the mixture is frothy and has doubled in volume.
Beat the egg yolk into the flour and yeast mixture. In a second bowl, whisk the egg white until stiff but not dry, then fold into the mixture.
Heat a large nonstick skillet or griddle, brush with oil, and heat until the oil is hot. Spoon about 2 tbsp batter into the pan for each blini; you should be able to cook 3 or 4 at a time. Cook the blini over medium heat for 2-3 minutes, or until bubbles rise to the surface and burst.
Turn the blini over with a spatula and cook for 2-3 minutes longer, until golden on the other side. Wrap the cooked blini in a dish towel and keep them warm.
Cook the remaining batter in batches until all the batter is used up, lightly oiling the pan between batches.
To serve, arrange the blini on warmed plates, with spoonfuls of red and black lumpfish caviar, shrimp, and light sour cream. Garnish with lemon wedges and fresh chives.