Egg Pate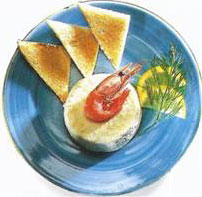 Serves 8
1 tbsp unflavored gelatin
2 tbsp water
13 oz (400 g) canned consomme
2/3 cup (150ml) heavy cream
6 hard-boiled eggs, peeled and chopped
2/3 cup (150 ml) light sour cream
salt and black pepper
8 large cooked shrimp, lemon slices, and dill to garnish
STEPS :
Sprinkle the gelatin over the water in a bowl. Leave to stand for 3 minutes or until the gelatin is softened. Put the bowl into a saucepan of simmering water for 3 minutes or until the gelatin has dissolved.
Pour the consomme into a pitcher and stir in the gelatin liquid.
Whip the cream in a large bowl until it forms soft peaks. Fold in the eggs, creme fraiche, and three- quarters of the consomme. Add salt and pepper to taste.
Divide the mixture among S ramekins and level the surfaces. Leave to stand for about 30 minutes until set. If it has already set, reheat the remaining consomme gently. Spoon it over the pate. Chill for at least 3 hours.
To serve, un mold the pate, and garnish with the shrimp, lemon slices, and dill.