Tapas are Spanish hors d 'oeuvres: little plates of savory foods traditionally served in bars and accompanied by glasses of wine and good conversation. All sorts of hot or cold dishes make excellent tapas - just make sure they can be eaten with the fingers or a fork.
VEGETABLES WITH GARLIC DIPS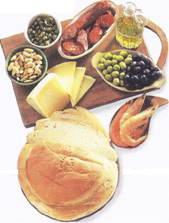 Serves 4
1 1/2 lb (750 g) small new potatoes
1 eegplant, thinly sliced lengthwise
olive oil for brushing
1 red pepper, roasted and peeled
small bunch of watercress to serve
rouille and aioli to serve
STEPS :
Boil the potatoes for 10-15 minutes, until just tender. Drain and leave to cool or keep warm as desired.
Arrange the eggplan t slices on a baking sheet and brush wi th olive oil. Cook under the broiler, 4 in (10 cm) from the heat, for 10 minutes or until lightly browned on each side. Cut the pepper into strips.
Arrange the vegetables on a serving plate, garnish with the watercress, and serve with rouille and aioli.
GARBANZO BEAN & RED PEPPER SALAD
Serves 4
13 oz (400 g) canned garbanzo beans, drained
1/2 red onion or 3 scallions, chopped
3 garlic cloves, crushed
3 tbsp olive oil
2 tbsp white vinegar
salt and black pepper
Jew sprigs of flat-leaf panley
1 red pepper, roasted and peeled
25 pimiento-stuffed olives
STEPS :
Combine the garbanzo beans with the onion, garlic, oil, vinegar, and salt and pepper to taste. Remove the parsley leaves from the stems and stir in.
Cutiliered~p~r~oos~~.Sfu into the garbanzo bean mixture with the olives until evenly mixed.
TUNA TOSTADAS
Serves 4
1/2 baguette, cut diagonally into thin slices 1 garlic clove, crushed
3 tbsp olive oil
2 ripe tomatoes, thinly sliced
2 tbsp drained tuna
3 oz (90 g) Gouda or Cheddar cheese, thinly sliced
1 tbsp chopped flat-leaf panley
STEPS :
Under the broiler, lightly toast the bread on both sides. Meanwhile, combine the garlic with the olive oil.
Brush each slice of toasted bread with a little of-the garlic oil, then top with a thin slice of tomato. Place a little tuna on each, then top with a slice of cheese and a sprinkling of parsley.
Return to the broiler and cook, 4 in (10 cm) from the heat, for 2-3 minutes, until the cheese has melted.
Traditional tapas
An appetizing selection of tapas need not involve a whole day in the kitchen. The following authentic dishes require little or no preparation:
panfried and salted almonds
black or green olives
Manchego cheese
potato omelet
slices of chorizo (spicy sausage)
chunks of crusty bread
jumbo shrimp
ANDALUSIAN MUSHROOMS
Serves 4
1/2 lb (250 g) mushrooms
2 tbsp olive oil
2 tbsp butter
6 shallots, chopped
3 garlic cloves, crushed
I oz (30 g) serrano ham or prosciutto strips
1/4 tsp mild chili powder
1/4 tsp paprika
1/4 cup (4 tbsp) water
1 tsp lemon juice
6 tbsp (90 ml) dry red wine
1/4 cup (30 g) chopped fresh cilantro or parsley to garnish
STEPS :
Pull the mushroom stems from the caps. Heat the olive oil and butter in a skillet. When the butter is foaming, add the shallots and half of the garlic, and cook, stirring, for about 5 minutes until soft but not browned. Add the mushroom caps and stems, and cook, stirring, for 3 minutes, until lightly browned.
Add the serrano ham, chili powder, and paprika and cook, stirring constantly, for 1 minute.
Add the water and lemon juice, and cook over high heat for a few minutes, until the liquid has almost evaporated and the mushrooms are just tender.
Add the red wine and continue to cook over high heat until the liquid is reduced and flavorful. Stir in the remaining garlic, sprinkle with the chopped cilantro or parsley, and serve immediately.
Clockwise from top: Vegetables witli Garlic Dips, Aioli, Andalusian Mushrooms, Tuna Tostadas, Rouille, Garbanzo Bean & Red Pepper Salad.