Smoked Chicken Salad With Walnuts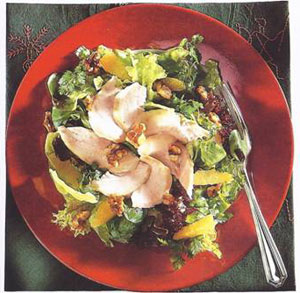 Serves 6
1 smoked chicken, weighing about 2Ij2lb(1.25 kg)
7 tbsp (100 ml) sunflower oil
2 tbsp walnut oil
5 tbsp (75 ml) orange juice
1/4 tsp ground coriander
1/4 tsp sugar
salt and black pepper
8 cups (375 g) mixed salad greens
4 oranges, peeled and sectioned
1/2 cup (60 g) walnut pieces
STEPS :
Remove the meat from the chicken carcass and discard the skin and any gristle. Cut the meat into thin, neat slices. Put the chicken slices into a shallow nonmetallic dish.
In a small bowl, combine the sunflower and walnut oils, orange juice, ground coriander, sugar, and salt and pepper to taste. Pour the mixture over the chicken slices and toss them gently until coated evenly.
Arrange the salad greens, orange sections, and chicken slices on individual plates, scatter the walnut pieces over the top, and serve immediately.

WARM DUCK SALAD
Substitute 3/4 lb (375 g) smoked duck or turkey breast Jor the •chicken. Gently heat the poultry slices in the dressing and add warm croutons (page 31) to the salad.
Smoked chicken
In the past, foods were smoked to preserve them, but flavor is now one of the prime reasons for smokingJoods. The chicken is first cold-smoked, then briefly hot-smoked, before being rested to let the flavor mature. It is darker than Jresh chicken.