Salmon & Shrimp Phyllo Purses
These crisp, golden purses and their creamy sauce are ideal for a party since they can be prepared up to 24 hours ahead, kept .covered with a damp cloth in the refrigerator, and cooked at the last minute. For a different and delightful flavor, use scallops instead of shrimp.
Serves 4 - 6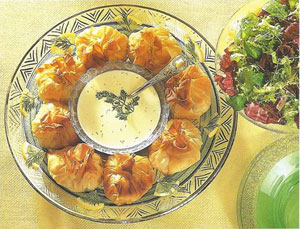 1 lb (500 g) salmon fillet, boned, skinned, and cut into bite-sized pieces
1/2 lb (250 g) cooked peeled shrimp
lemon juice for sprinkling
8-oz (250-g) package phyllo pastry
4 tbsp butter, melted, plus extra butter for greasing
salt and black pepper
lemon slices and dill sprigs to garnish
WHITE WINE SAUCE
1 lb (500 g) salmon fillet, 7 tbsp (100 ml} dry white wine
1 1/2 cups (300 ml) heavy cream
1 tsp chopped fresh dill
STEPS :
Combine the salmon pieces and shrimp. Sprinkle with lemon juice and add salt and pepper to taste. Set aside.
Cut the phyllo pastry into sixteen 7-in (18-cm) squares. Brush 2 squares with the melted butter, covering the remaining squares with a damp kitchen towel. Make a phyIIo purse. Repeat to make 8 purses.
Butter a baking sheet. Add the phyllo purses, lightly brush with the remaining melted butter, and bake in a 375癋 (l90癈) oven for 15-20 minutes, until crisp and golden.
Meanwhile, make the white wine sauce: pour the wine into a saucepan and boil rapidly until it has reduced to about 3 tbsp. Add the heavy cream and simmer until it reaches a light coating consistency. Remove the pan from the heat and add the dill and salt and pepper to taste.
Pour the sauce in to a small bowl and garnish with a dill sprig. Garnish the purses with the lemon slices and dill sprigs and serve with the warm sauce.
VEGETABLE & GARLIC PHYLLO PURSES

Heat 1 tbsp sunflower oil in a skillet, add 3 carrots, 1 1/2 large celery stalks, and 4 large scallions, all cut into matchsticks. Stir-fiy over high heat for 2-3 minutes. Add salt and pepper to taste and leave to cool slightly. Prepare the purses as directed, filling them with the vegetable mixture and 1/4lb (125 g) soft garlic cheese. Proceed as directed.
Making a phyllo purse

Place one-eighth of the salmon and shrimp mixture in the middle of one buttered square.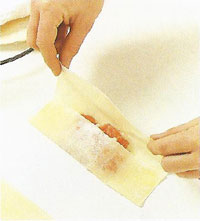 Fold 2 sides of phyllo pastry over the mixture to form a rectangle. Take the 2 open ends and fold one over the filling and the other underneath.

Place this package on the second buttered phyllo square and pull up the edges. Squeeze the phyllo together at the neck to seal the purse.