Strata With Cheese & Pesto
Serves 4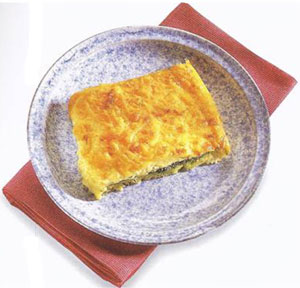 4-6 thick slices of stale bread
3-oz (90-g) jar store-bought green pesto
4 eggs, lightly beaten
1/2 cup (125 ml) light sour cream
1/2 cup (125 ml) milk
3 cups (375 g) grated Fontina, mozzarella, or aged Cheddar cheese
3 tbsp grated Parmesan cheese
STEPS :
Cut off and discard the crusts from the bread. Spread the slices with pesto, then arrange them in a single layer in a baking dish or roasting pan.
In a large bowl, combine the beaten eggs with the sour cream and milk, then pour the mixture over the bread. Sprinkle with the grated cheeses.
Bake the strata in a 400癋 (200癈) oven for 35-40 minutes, until golden brown. The strata will puff up slightly as it bakes, but unlike a souffle, it can be safely left to stand for about 5 minutes before serving.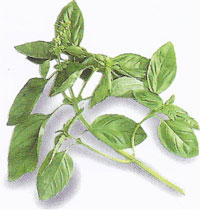 * * * Cook's know-how * * *
This is an excellent way of using up stale bread. In fact, for this recipe, the staler the bread the better, although if it is very hard you will have to make the custard more liquid. If you do not have any leftover bread, dry slices of fresh bread in a low oven for 15 minutes or so.