Salmon Quenelles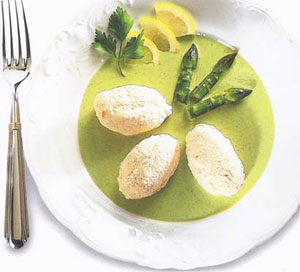 Quenelles are delicate little dumplings, traditionally oval but sometimes round, that can be made with fish, meat, or chicken. The name comes from Knodel, the German word for dumpling. They look difficult to make, but in fact they are quite simple and make a most elegant appetizer.
Serves 4 - 6
1 lb (500 g) salmon fillet, boned, skinned, and cut into chunks
2 egg whites
salt and white pepper
2/3 cup (150 ml) heavy cream
lemon slices and flat-leaf parsley sprigs to garnish
ASPARAGUS SAUCE
6 tbsp (90 ml) dry white wine
1/2 lb (250 g) young asparagus, trimmed, tough parts removed
1 1/4 cups (300 ml) heavy cream
STEPS :
Make the quenelles: puree the salmon, egg whites, and salt and pepper to taste in a food processor until completely smooth.
With the machine still running, pour in the cream in a steady stream until it is thoroughly blended. Transfer the mixture to a large bowl, cover, and chill for about 2 hours.
Bring a saucepan of salted water to a simmer. Shape and cook the quenelles (see box, right). Keep the quenelles warm while you make the sauce.
Make the asparagus sauce: pour the wine into a saucepan and boil rapidly for about 2 minutes until it is reduced to a thin syrup.
Cook the asparagus in a pan of boiling salted water for 3-5 minutes, until tender. Drain, then cut off the asparagus tips and reserve them for garnish.
Puree the reduced wine and the asparagus stalks until very smooth.
Boil the cream in a saucepan for 4 minutes or until it is thick enough to coat the back of a metal spoon. Stir in the puree and taste for seasoning.
Pour the sauce onto warmed -plates, arrange the quenelles on top, and garnish with the reserved asparagus tips, lemon slices, and parsley sprigs.
Shaping and cooking the quenelles

Dip a soup spoon into the simmering water, then take a spoonful of the chilled quenelle mixture. Using a second warm wetted soup spoon or your fingers, mold into an oval. Repeat with the remaining mixture.

Lower some quenelles into the simmering water and cook for 6-10 minutes, until they are firm when pressed with a finger. Do not put too many into the pan at one time.

Remove the quenelles with a slotted spoon, drain well, and keep them warm while you cook the remainder.
Cook's know-how
When blending the quenelle mixture, be careful not to over process the puree or the cream may curdle.