Spicy Shrimp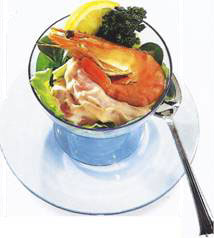 Serves 4
2/3 cup (150 ml) mayonnaise
2 tbsp horseradish
1 tbsp lemon juice
1 tsp Worcestershire sauce
1 tsp tomato paste
1/4 tsp sugar
few drops ofTabasco sauce
black pepper
1/2 lb (250 g) cooked peeled shrimp
salad greens to serve
thin lemon wedges, parsley sprigs, and 4 large cooked shrimp in their shells to garnish
STEPS :
Make the dressing: in a medium bowl, mix together the mayonnaise/" horseradish, lemon juice, Worcestershire sauce, tomato paste, sugar, and Tabasco sauce and season with a little black pepper.
Add the peeled cooked shrimp and stir to coat with the dressing.
Line 4 individual glass serving bowls with the salad greens and top with the shrimp mixture. Garnish each serving with a thin lemon wedge, a parsley sprig, and a large shrimp.