Smoked Salmon Pinwheels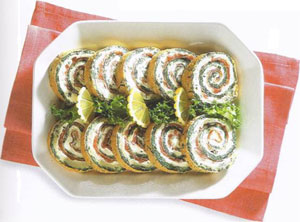 The pinwheel pattern oj the roulade is almost as delightful as its flavor. Since both the cream cheese and smoked salmon layers are quite rich, the inclusion in the roulade oj a very thin layer oj tomatoes provides a Jresh contrast.
Serves 4 - 6
1 tbsp butter
1 garlic clove, crushed
5 cups (150 g) spinach leaves, cooked, squeezed, and chopped
4 eggs, separated
1 tsp chopped fresh rosemary
pinch of grated nutmeg
salt and black pepper
salad greens and lemon slices to garnish
FILLING
3/4 cup plus 2 tbsp (200 g) cream cheese
3 tbsp yogurt
4 scallions, thinly sliced
1/4 lb (125 g) smoked salmon
2 ripe tomatoes, thinly sliced
* 13- x 9-in (33- x 23-cm)jelly roll pan
STEPS :
Line the jelly roll pan with a sheet of baking parchment, cutting the corners so that it fits snugly.
Put the butter into a saucepan, add the garlic, and cook gently until the butter melts. Remove from the heat. Stir in the spinach.
Add the egg yolks, rosemary, and nutmeg, season to taste and beat into the spinach mixture.
In another bowl, whisk the egg whites until stiff but not dry. Fold 2-3 spoonfuls into the spinach mixture, then fold in the remainder.
Spread the mixture in the jelly roll pan, and bake in a 375癋 (190癈) oven for 10-12 minutes, until the mixture feels firm. Remove from the oven, cover with a damp dish towel, and leave to cool.
Meanwhile, make the filling: in a medium bowl, beat together the cream cheese and yogurt until smooth, then stir the scallions into the mixture.
Turn out the cooled roulade and peel off the paper. Fill and roll the roulade.
Wrap the roulade in foil, then overwrap with a damp dish towel and chill overnight.
To serve, trim off the hard edges of the roulade, cut into thick slices, and arrange on a serving platter. Garnish with salad greens and lemon slices.
Filling and rolling the roulade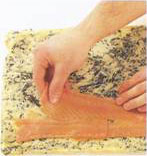 Arrange the slices of smoked salmon on top of the roulade, leaving a I-in (2.5-cm) border on each side.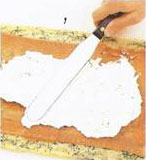 Spread the cream cheese filling over the smoked salmon, using a spatula. Arrange the tomato slices over half of the cream cheese filling.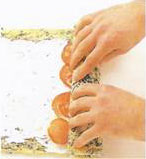 Roll up the roulade, starting from the end where the tomato slices have been placed.
PROSCIUTTO PINWHEELS

Substitute 2 cups (150 g) broccoli florets, cooked and pureed, for the spinach, and 4 oz (125 g) thinly sliced prosciutto for the smoked salmon. Proceed as directed.