Gravlax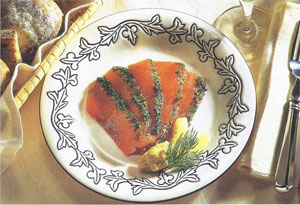 This is a Scandinavian method oj pickling fresh salmon, and a lovely recipe Jor a party. Serve it with thin slices oj dark rye bread. You will find the fish easier to slice if it has been Jrozen Jor about 4 hours beforehand.
Serves 16
4 1/2lb (2.25 kg) whole fresh salmon, boned and cut into 2 fillets
dill sprigs and lemon wedges to garnish
PICKLING MIXTURE
5 tbsp (75 g) sugar
1/4 cup (60 g) coarse sea salt
1/4 cup (30 g) chopped fresh dill
MUSTARD DILL SAUCE
3 tbsp Dijon mustard
2 tbsp sugar
1 tbsp white vinegar
1 eggyolk
2/3 cup (150 ml) sunflower oil
salt and black pepper
2 tbsp chopped fresh dill
STEPS :
Make the pickling mixture: put the sugar, sea salt, and chopped dill into a small bowl, season generously with black pepper, and stir to mix thoroughly.
Sandwich together the salmon fillets.
Wrap the fillets in a double thickness offoil and place in a large dish. Put a plate on top, weigh down with heavy cans, and chill in the refrigerator for 1-3 days, turning the salmon over every day.
Make the mustard dill sauce: in a medium bowl, whisk together the mustard, sugar, vinegar, and egg yolk, then whisk in the oil a little at a time. The sauce should have the consistency of mayonnaise. Add salt and pepper to taste and stir in the chopped dill.
Unwrap the gravlax. A lot of sticky, salty liquid will drain from the fish when it has been pickled: this is normal. Remove the fish from the pickling liquid and . pat dry with paper towels. Separate the salmon fillets.
To serve, slice each fillet on a diagonal, cutting the flesh away from the skin. The slices should be a little thicker than for smoked salmon, and each one should have a fringe of dill. Garnish with dill sprigs and lemon wedges and serve with the mustard dill sauce.

Sandwiching the salmon
Put one salmon fillet skin side down on a board, cover the surface with the pickling mixture, and place the second fillet on top, skin side up.