Moules Mariniere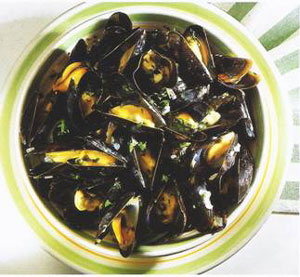 Serves 6
6 tbsp (90 g) butter
1 small onion, finely chopped
1 garlic clove, crushed
6 lb (3 kg) mussels, cleaned
1 3/4 cups (450 ml) dry white wine
6 parsley sprigs
3 thyme sprigs
1 bay leaf
salt and black pepper
1 tbsp all-purpose flour
3 tbsp chopped parsley to garnish
STEPS :
Melt 4 tbsp (60 g) of the butter in a large saucepan, add the onion and garlic, and cook gently, stirring occasionally, for a few minutes until soft but not browned.
Add the mussels, wine, parsley, thyme, bay leaf, and salt and pepper to taste. Cover the saucepan tightly and bring to a boil.
Cook, shaking the saucepan frequently, for 5-6 minutes or until the mussels open.
Throw away any mussels that have not opened: do not try to force them open. Transfer the remaining mussels to a warmed tureen
Strain the cooking juices into a small saucepan. Boil until reduced by about one-third.
Work the remaining butter and the flour together on a plate until a paste is formed.
Whisk the kneaded butter into the cooking liquid and bring to a boil, stirring constantly. Taste the sauce for seasoning and pour over the mussels. Garnish with the parsley, and serve immediately.
Mariniere
Derived from the French word marin, which means "sailor, " the term mariniere may refer to any type of seafood cooked with white wine and herbs.