ANTIPASTI
This is the Italian equivalent of hors d'oeuvres - a selection of hot and cold appetizers. In Italy, you are most likely to find lavish displays of antipasti in restaurants; at home, only one or two simple appetizers are served
MOZZARELLA, TOMATO, & BASIL SALAD

Serves 8

4 beefsteak tomatoes
1/2 1b (250 g)fresh mozzarella cheese
1/4 cup (30 g) shredded fresh basil
1/4 cup (60 ml) olive oil
1 tbsp balsamic or wine vinegar
salt and black pepper
basil sprig to garnish

STEPS :

Peel the tomatoes: cut out the cores and score an "X" on the base of each one, then immerse in boiling water until the skins start to split. Transfer immediately to cold water; when cool, peel off the skin. Thinly slice
Slice the mozzarella cheese. Arrange the tomato and cheese slices alternately on a plate, overlapping one another. Sprinkle with the basil, olive oil, and vinegar, and add salt and pepper to taste. Garnish with a basil sprig and serve.

Mozzarella

This is an unripened white cheese. Traditionally made with buffalo milk, less expensive varieties made with cow's milk are now widely available and often used in the place of

SUN-DRIED TOMATO CROSTINI

Serves 8

8-in (20-cm) baguette
2 gaTiic cloves, crushed
about 3 tbsp olive oil
4 sun-dried tomatoes in oil
2 tbsp butter
salt and black pepper
12 pitted black olives, chopped
1/4 tsp dried rosemary

STEPS :

Cut the baguette into 24 thin slices and arrange them on 2 baking sheets. In a small bowl, combine the garlic with the olive oil, then brush about half of the mixture on the slices of bread. Bake in a 350癋 (l80癈) oven for 10 minutes.
Remove the baking sheets from the oven, turn the slices of bread over, brush with a little more garlic oil, and bake for 10 minutes longer or until crisp and golden. Leave to cool.
Dry the sun-dried tomatoes with a paper towel and cut them into pieces. Put the tomato and butter in a food processor and process until finely chopped. Season with salt and pepper to taste.
Spread the sun-dried tomato puree over the crostini, arrange the chopped olives on top, and sprinkle with rosemary.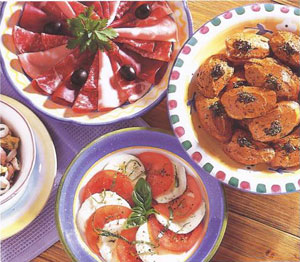 * * * Cook's know-how * * *
Italian delicatessens are a ioonderful hunting ground for prepared antipasti. Make up a large platter of cured meats, such as prosciutto, mortadella (a stewed purh sausage from Bologna), pepperoni, capicola, or some slices of salami. Among the many varieties are salame milano, traditionally made of pork, sometimes a combination of pork and beef; salame genoa, port: studded with white peppercorns; and salame finocchiona, made from pork flavored with fennel. Seroe a selection of bowls containing green olioes stuffed with anchovies OT pimientos; green and black olives marinated in olive oil, herbs, and spices; roasted red peppers marinated in olive oil, garuc, and pars ley; and store-bought mixtures of shrimp, mussels, squid, and other seafood in an herb dressing.