Coquilles St. Jacques

Serves 4
8 sea scallops or 24 bay scallops
2/3 cup (150 ml) water
4 tbsp medium-dry white wine
1 bay leaf
salt and black pepper
lemon wedges and bay leaves to garnish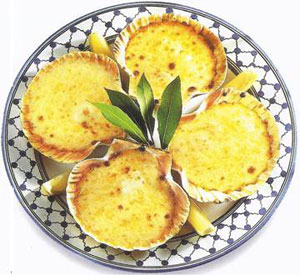 MORNAY SAUCE
3 tbsp butter
3 tbsp all-purpose flour
4 tbsp light cream
1/4 cup (60 g) grated Gruyere cheese
* 4 scallop shells
STEPS :
Cut each sea scallop into 2-3 pieces. Put the water, wine, and bay leaf into a small pan and season to taste. Bring to a boil, then lower the heat and add the scallops.
Poach for 1 minute or until the scallops are just tender when tested with the tip of a knife. Lift out the scallops with a slotted spoon, strain the cooking liquid, and reserve.
Make the Mornay sauce: melt the butter in a saucepan, add the flour, and cook, stirring, for 1 minute. Gradually stir in the reserved cooking liquid and bring to a boil, stirring constantly until the mixture thickens. Simmer gently for about 5 minutes. Lower the heat and stir in the cream and half of the grated cheese. Taste for seasoning.
Stir the scallops into the sauce, divide among the shells, and sprinkle with the remaining cheese.
Place the filled shells under the broiler 3 in (7 cm) from the heat, for about 5 minutes until the cheese has melted and the sauce is golden and bubbling. Garnish with lemon wedges and bay leaves.