Oyster Stew With Saffron
Serves 4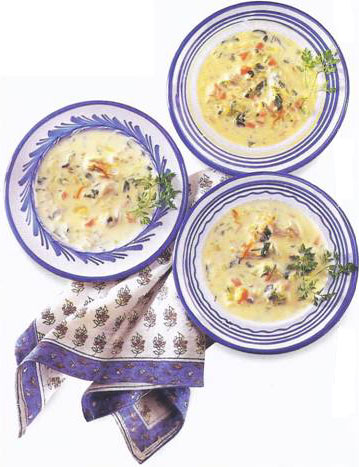 12 oysters in their shells
1 1/2 cups (350 ml) light cream
1 cup (250ml) dry white wine
1 cup (250 ml)fish stock
1 leek, trimmed and chopped
1/2 carrot, diced
3/4 cup (30 g) watercress, tough stalks removed, coarsely chopped
pinch of saffron threads
1 tbsp Pernod
1 tbsp lemon juice
salt
pinch of cayenne pepper (optional)
chervil sprigs to garnish
STEPS :
Remove the oysters from their shells (page 107), and strain their liquid into a pitcher. Set aside.
Put the cream, wine, stock, leek, and carrot into a saucepan and bring to a boil. Simmer for 7-10 minutes, until the vegetables are just tender.
Add the reserved oyster liquid, watercress, saffron, Pernod, lemon juice, salt, and cayenne pepper, if using, to the pan. Bring to a boil, add the oysters, and simmer until the oysters heat through and curl slightly at the edges.
Serve the oyster stew immediately, garnished with chervil sprigs.
Saffron
Made Jrom the dried stigmas oj the saffron crocus, this is the most expensive spice in the world. Over 250, 000 floioers must be picked, by hand, to produce 1 lb (500 g) oj saffron. Saffron is cultivated in many Mediterranean countries; Spain is the major producer.