Tzatziki Soup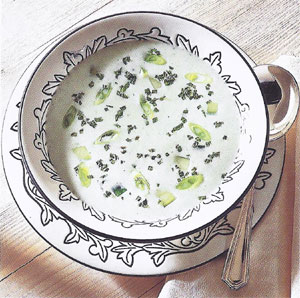 Serves 4 - 6
2 1/2 cups (600 g) plain yogurt
1 cup (250 ml) water
1 cucumber, seeded and diced
4 garlic cloves, coarsely chopped
1 tbsp olive oil
1 tsp white vinegar
1 tsp dried mint
salt and black pepper
2-3 tbsp chopped fresh mint and 3 scallions, thinly sliced, to garnish
STEPS :
Puree the yogurt, measured water, one- quarter of the diced cucumber, the garlic, oil, vinegar, and mint in a food processor or blender until smooth. Season well with salt and add pepper to taste.
Transfer the soup to a large bowl and stir in the remaining cucumber. Cover and chill for at least I hour.
Taste for seasoning. Sprinkle the soup with chopped mint and scallions before serving.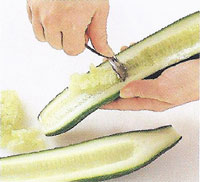 Seeding a cucumber
Trim the cucumber with a small knife, then cut it in half lengthwise. With a teaspoon, scoop out and discard the seeds from each cucumber half.
Tzatziki
Tzatziki is best known as a cooling Greek salad, but it is even more refreshing when served as a chilled soup. Dried mint is used in the soup because of its intense flavor, although fresh mint is used for the garnish.