Vegetable Minestrone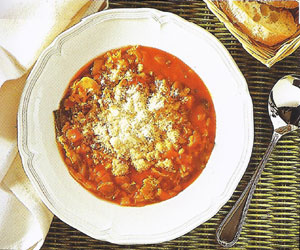 Serves 4 - 6
2/3 cup (125 g) dried cannellini or borlotti beans
2 tbsp olive oil
1 onion, chopped
2 celery stalks, chopped
2 carrots, diced
13 oz (400 g) canned plum tomatoes, drained and chopped
1 tbsp tomato paste
1 garlic clove, crushed
salt and black pepper
6 cups (1.5 liters) chicken or vegetable stock
2 cups (250 g) trimmed and finely sliced leeks
1 cup (125 g) finely shredded Savoy cabbage
2 tbsp Arborio rice
grated Parmesan cheese to serve
STEPS :
Put the dried beans into a large bowl and cover with cold water. Leave to soak overnight.
Drain the beans, put them into a saucepan, and cover with fresh cold water. Boil the beans rapidly for 10 minutes, then simmer until they are soft.
Meanwhile, heat the oil in a large saucepan, add the onion, celery, and carrots, and cook over high heat, stirring, for 3 minutes.
Add the tomatoes, tomato puree, garlic, and salt and pepper to taste. Cover and cook very gently, stirring occasionally, for 20 minutes. Drain the beans and set aside.
Pour the stock into the tomato mixture and continue to simmer, covered, for 15 minutes. Add the leeks, cabbage, rice, and cooked beans and simmer for 20 minutes. Taste for seasoning.
Serve immediately, sprinkled with grated Parmesan cheese.

PANCETTA MINESTRONE
Pancetta, Italian unsmoked bacon; is sometimes used in minestrone. Dice 2 oz (60 g) pancetta and fry in the oil over high heat for 5 minutes, then add the onion, celery, and carrots.