Chicken Noodle Soup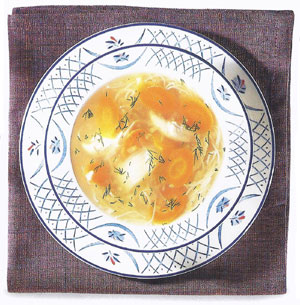 Serves 4
2 lb (1 kg) chicken pieces
1 lb (500 g) carrots, sliced
1/2 head celery, chopped
1 small onion, peeled but left whole
5 garlic cloves, coarsely chopped
a few parsley sprigs
3 quarts (3 liters) water
2-3 chicken stock cubes
salt and black pepper
1/4 lb (125 g) thin noodles
chopped fresh dill to garnish
STEPS :
Put the chicken pieces into a large saucepan with the carrots, celery, onion, garlic, and parsley. Pour in the measured water and bring to a boil. Using a slotted spoon, skim off the foam that rises to the top of the pan.
Lower the heat and add the stock cubes and salt and pepper to taste. Simmer gently, covered, for 2 hours, adding extra water if the liquid reduces too much.
Meanwhile, break the noodles into 2-in (5-cm) lengths. Simmer in boiling salted water for about 2 minutes or untiljust tender. Drain and set aside.
Skim any fat from the surface of the soup. With a slotted spoon, remove the parsley, onion, and chicken, and discard the parsley, chicken bones, and skin. Chop the onion and chicken and return to the soup. Taste for seasoning.
Divide the noodles among warmed soup plates. Ladle the soup over the noodles, garnish, and serve immediately.
* * * Cook's know-how * * *
This soup is best made with chicken thighs and drumsticks; these are more moist and have considerably more flavor than breast meat when cooked for a long time.