Tomato Soup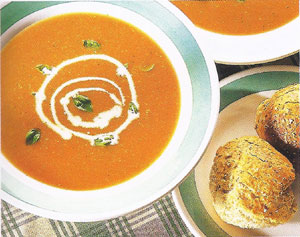 Serves 6 - 8
2 tbsp butter
2 onions, coarsely chopped
1 garlic clove, crushed
1 tbsp all-purpose flour
5 cups (1.25 liters) chicken or vegetable stock
26 oz (800 g) canned tomatoes
1 bay leaf
salt and black pepper
1/4 cup (30 g) store-bought pesto
heavy cream and fresh basil leaves to garnish
STEPS :
Melt the butter in a large saucepan, add the onions and garlic, and cook gently, stirring occasionally, for a few minutes until soft but not browned.
Add the flour to the pan and cook, stirring constantly, for 1 minute.
Pour in the stock and add the tomatoes and their juice, the bay leaf, and salt and pepper to taste. Bring to a boil, cover the pan, and simmer gently for 20 minutes.
Remove the bay leaf and discard. Puree the soup in a food processor or blender until smooth.
Return the soup to the rinsed-out pan, add the pesto, and heat through. Taste for seasoning.
Serve at once, garnished with cream and fresh basil leaves.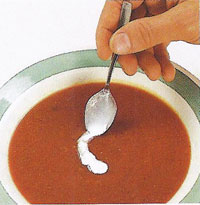 Garnishing with cream
With a teaspoon, quickly swirl the heavy cream in a spiral on each serving.

QUICK TOMATO SOUP
Imported strained tomatoes, from Italy, usually packaged in a box, make a beautiful deep red soup. Substitute 3 1/2 cups (800 g) for the canned tomatoes and then cook as directed.