Spiced Autumn Soup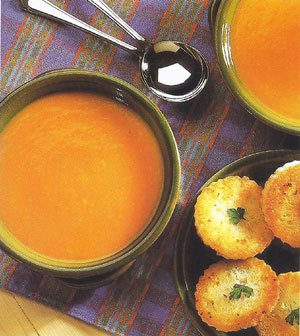 Serves 8
4 tbsp butter
2 large onions, coarsely chopped
2 patatos, coarsely chopped
2 carrots, coarsely chopped
3 garlic cloves, crushed
parsed zest and juice of 1 orange
2 tsp mild curry powder
7 1/2 cups (1.8 liters) chicken or vegetable stock
26 oz (800 g) canned chopped tomatoes
2 apples, peeled and chopped
1 tbsp dried basil
salt and black pepper
herb croutes to serve
STEPS :
Melt the butter in a large saucepan, add the onions, polatoes, carrots, garlic, and range zest, and cook gently, stirring occasionally, for about 5 minutes.
Add the curry powder and cook, stirring con tantly, for 1-2 minutes.
Add the stock, orange juice, tomatoes, apples, basil, and salt and pepper to taste. Bring to a boil, cover, and simmer gently for 30 minutes or until the vegetables are tender. Discard the orange zest.
Puree the soup in a food processor or blender until smooth. Return to the rinsed-out pan, reheat, and taste for seasoning. Serve at once, with herb croutes.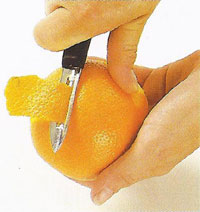 Paring orange zest
With a vegetable peeler, remove strips of zest, excluding the pith.