Vichyssoise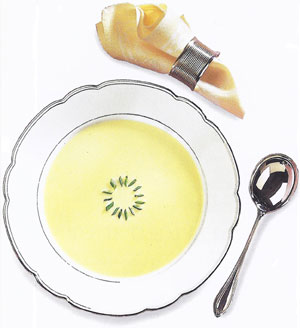 Serves 4
4 tbsp butter
3 large leeks, trimmed and sliced
1 small onion, chopped
2 potatoes, coarsely chopped
5 cups (1.25 liters) chicken stock
salt and black pepper
TO SERVE
2/3 cup (150 ml)light cream milk (optional)
2 tbsp snipped fresh chives
STEPS :
Melt the butter in a large saucepan, add the leeks and onion, and cook very gently, stirring occasionally, for 10-15 minutes until soft but not browned.
Add the potatoes, stock, and salt and pepper to taste and bring to a boil. Cover and simmer gently for 15-20 minutes, until the potatoes are tender.
Puree the soup in a food processor or blender until smooth. Pour into a large bowl or pass through a strainer for a smoother finish. Cover and chill for at least 3 hours.
To serve, stir in the cream. If the soup is too thick, add a little milk. Taste for seasoning. Garnish with snipped chives before serving.
Vichyssoise
This soup is the sophisticated chilled version of a peasant recipe for potato leek soup. It was created in 1917 by the French chef Louis Diat when he was working at the Ritz-Carlton Hotel in New York. Inspired by memories of his mother's cooking, he named it after Vichy, the spa town near his childhood home.