Borscht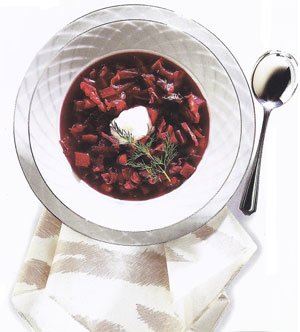 Serves 4
5 beets, peeled
1/2 head of cabbage, coarsely chopped
2 waxy potatoes, diced
1 medium-large tomato, peeled, seeded, and diced
1/2 carrot, chopped
1/4 small onion, chopped
6 cups (1.5 liters) chicken or vegetable stock, more if needed
3-4 dill sprigs
2 tbsp sugar
2 tbsp red wine vinegar
salt and black pepper
sour cream and dill sprigs to garnish
STEPS :
Dice 4 of the beets, and grate the remaining beets.
Put the diced beets, cabbage, potatoes, tomatoes, carrot, and onion into a large pan with the stock. Bring to a boil, then simmer for 30-40 minutes, until the vegetables are very tender. Add extra stock if neccessary.
Add the dill, sugar, and vinegar and simmer for 10 minutes to let the sweet-sour flavors develop. Add the grated beets, salt and pepper to taste, and more sugar and vinegar if necessary.
Serve at once, garnished with dollops of sour cream and sprigs of dill.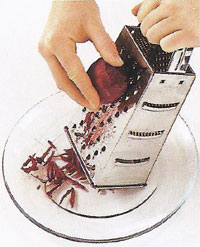 Grating beets
Using the large holes of a grater, grate the beets coarsely onto a plate with firm downward strokes.