Chilled Strawberry Soup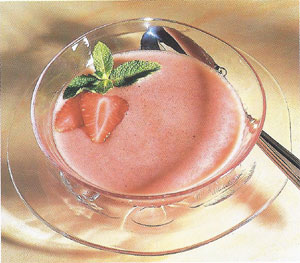 Serves 4
1 cup (250 ml) dry white wine
1/3 cup (90 g) sugar very small piece of lime zest (optional)
2 cups (250 g) strawberries
1 cup (250 ml) orange juice
mint sprigs to garnish
STEPS :
Put the wine and sugar into a saucepan; bring to a boil and boil for 5 minutes. Remove the pan from the heat, add the lime zest, if using, and let cool.
Remove the lime zest from the pan. Hull and chop the strawberries, reserving 4 for garnish.
Puree the wine syrup and strawberries in a food processor or blender until very smooth.
Pour the puree into a large bowl and stir in the orange juice. Cover and chill for at least 3 hours.
Garnish with the reserved strawberries and mint sprigs just before serving.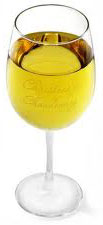 STRAWBERRY & CHAMPAGNE SOUP
Omit the white wine and lime zest. Puree the strawberries, reserving a few for garnish, with the sugar and orange juice. Divide the mixture between chilled glass serving bowls, and top with chilled Champagne or dry sparhling wine. Garnish and serve.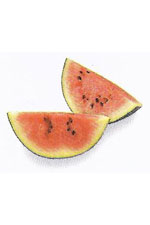 STRAWBERRY & WATERMELON SOUP
Substitute a 2-lb (1-hg) piece of watermelon for the orange juice. Remove and discard the seeds, scoop out and puree the melon flesh until smooth, then combine with the wine syrup, strawberries, and a little lime juice.