Asparagus Soup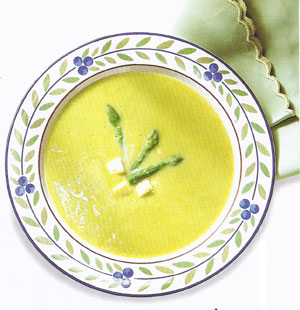 Serves 4
1 large potato, chopped
6 cups (1.5 liters) chicken or vegetable stock
1 lb (500 g) asparagus
2 garlic cloves, crushed
2 tbsp chopped Jresh basil (optional)
salt and black pepper
2 tbsp butter (optional)
STEPS :
Put the potatoes into a large saucepan, add the stock, and bring to a boil. Cover and simmer for 15 minutes or until the potatoes are tender.
Meanwhile, trim the asparagus and discard any tough stalks. Chop into chunky pieces.
Add the chopped asparagus and garlic to the pan and cook, stirring occasionally, for about 5 minutes or until the asparagus is tender. Remove 9 tips; reserve for garnish.
Puree the soup in a food processor or blender until smooth.
Return the soup to the rinsed-out pan and reheat. Add the basil, if using, and salt and pepper to taste. Slice the reserved asparagus tips lengthwise in half. Serve the soup immediately, garnished with the asparagus tips and small nuggets of butter if desired.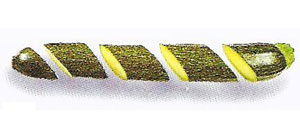 ZUCCHINI SOUP
Substitute sliced zucchini Jor the asparagus, reserving a Jew slices Jor garnish. For a lighter soup, omit the potatoes.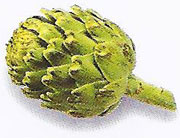 ARTICHOKE SOUP
Substitute 13 oz (400 g) canned artichoke hearts or bottoms, drained and diced, Jor the asparagus, reserving a Jew dice Jor garnish.