Frech Pea Soup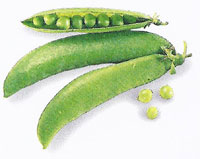 Serves 4 - 6
2 tbsp butter
1 large onion, coarsely chopped
6 cups (375 g) coarsely chopped lettuce leaves
1 tbsp all-purpose flour
3 cups (1.4 kg) fresh peas, shelled
5 cups (1.25 liters) chicken or vegetable stock
1/2 tsp sugar
2 large mint sprigs
salt and black pepper
shredded fresh mint to garnish
STEPS :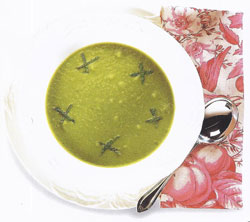 Melt the butter in a large saucepan, add the onion, and cook gently, stirring occasionally, for a few minutes until the onions are soft but not browned.
Add the lettuce to the pan and cook, stirring constantly, for 2 minutes. Add the flour and stir for 1-2 minutes longer, then add the peas, stock, sugar, and sprigs of mint. Bring to a boil, cover, and simmer, stirring occasionally, for 20 minutes or until the peas are soft.
Remove the mint sprigs and discard. Puree the soup in a food processor or blender until smooth.
Return the soup to the rinsed-out pan, reheat, and add salt and pepper to taste. Serve hot, garnished with shredded fresh mint.
* * * Cook's know-how * * *
When fresh peas are out of season, substitute frozen peas. Because the pods make up about half the weight of unshelled peas, you will need 1 1/2 lb (750 g) frozen peas.