Quick Shrimp Gumbo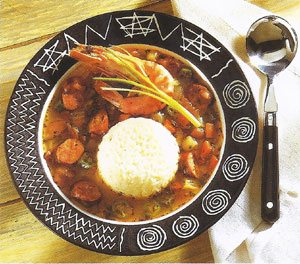 Serves 4
3 tbsp sunflower oil
1 small onion, diced
1 red pepper, cored, seeded, and diced
1 celery stalk, diced
3 garlic cloves, crushed
2 tbsp chopped parsley
1/4 cup (30 g) all-purpose flour
1/2 tsp paprika
1/4 tsp each ground cumin and dried oregano
4 medium tomatoes, peeled, seeded, and diced
3/4 cup (175 g) chorizo, sliced
5 cups (1.25 liters) fish stock
1/2 lb (250 g) okra, sliced
1/2 - 3/4 lb (250-375 g) cooked peeled shrimp
pinch of cayenne pepper
salt and pepper
rice timbales to serve
large cooked shrimp and scallions to garnish
STEPS :
Heat the oil in a pan, add the onion, red pepper, celery, garlic, and parsley, and cook for 8 minutes or until softened. Add the flour, and cook, stirring constantly, for 1 minute.
Sprinkle in the paprika, cumin, and oregano and cook, stirring, for 1 minute, then add the tomatoes, chorizo, and stock. Bring to a boil, then simmer, stirring occasionally, for 30 minutes or until the soup has thickened slightly.
Add the okra and cook for 5-7 minutes until tender, then add the shrimp and heat through. Add the cayenne pepper, and salt and pepper to taste.
Serve the gumbo hot, with rice timbales. Garnish with large cooked shrimp and scallions.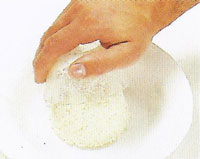 Making a rice timbale
Oil a small bowl, fill with cooked rice, and press down lightly. Turn upside down onto a warmed soup plate and lift off the bowl