Bouillabaisse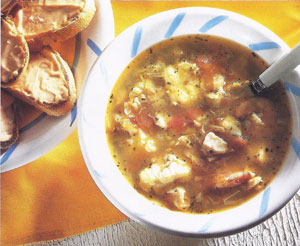 Serves 8
Bouillabaisse, the classic fish dish with the authentic flavors of Provence, is one of the most satisfying and delectable dishes you can bring to your table. This rich stew-soup is served with thick slices of toasted bread spread with rouille, a chili-flaoored mayonnaise.
2 tbsp olive oil
2 leeks, trimmed and diced
1 small onion, chopped
1 small fennel bulb, sliced
4 garlic cloves, crushed
1 tbsp chopped parsley
1 bay leaf
1 quart (1 liter) water
2 1/4 cups (600 ml)fish stock
2 medium tomatoes, peeled, seeded, and diced
1/4 tsp herbes de Provence
5-cm (2-in) piece of orange zest
1/4 tsp fennel seeds
2-3 potatoes, cut into chunks
2 lb (1 kg) assorted fish, cut into bite-sized pieces
2 lb (1 kg) assorted shellfish, shelled
1/2 tsp saffron threads
salt and black pepper
8 slices of baguette, toasted, to serve
ROUILLE
3 garlic cloves
1/2 cup (125 ml) mayonnaise
2 tsp paprika
1 tsp mild chili powder
1/4 tsp ground cumin
3 tbsp olive oil
1 small fresh red chili, cored, seeded, and finely chopped
1 tbsp lemon juice
salt
STEPS :
Heat the olive oil in a large, heavy saucepan. Add the dided leeks, chopped onion, fennel, garlic, parsley, and bay leaf and cook, stirring occasionally, for 5 minutes.
Pour in the measured water and stock. Add the tomatoes, herbes de Provence, orange zest, and fennel seeds. Bring to a boil and simmer for 30 minutes.
Meanwhile, make the rouille. Chill until needed.
Add the potatoes to the soup and simmer for 10 minutes. Do not stir or the potatoes will break up.
Add the fish, shellfish, saffron, and salt and pepper to taste and cook for a few minutes, until the fish becomes opaque.
Remove the bay leaf and orange zest and discard. Serve the bouillabaisse with slices of toasted baguette spread with the rouille.
Making rouille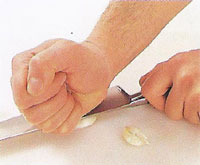 Use a knife blade to crush the garlic. Put into a bowl with the mayonnaise, paprika, chili powder, and ground cumin.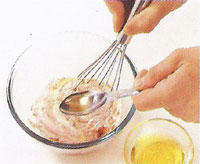 Pour in the olive oil, drop by drop, whisking constantly as the oil is absorbed into the spicy mayonnaise.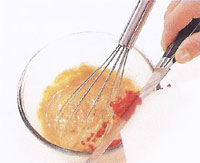 Add the red chili and lemon juice to the sauce; add salt to taste and stir well to combine.
* * * Cook's know-how * * *
Bouillabaisse is made with an assortment of 'firm-fleshed fish, which can include monkfish and halibut, and shellfish, such as mussels, shrimp, and small crab.