Blueberry & Red Wine Soup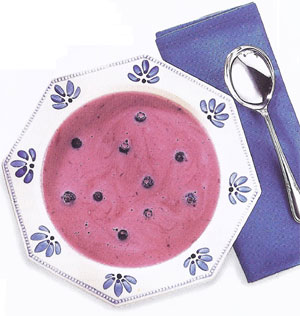 Serves 4
1 1/2 cups (350 ml) cranberry juice
1 cup (250 ml) red wine
1 cinnamon stick
2/3 cup (125 g) sugar
2 cups (250 g) blueberries
1 lbsp cornstarch mixed with 2 tbsp water
1/2 cup (125ml) sour cream
1/2 cup (125 ml) light cream
STEPS :
Put the cranberry juice, wine, and cinnamon stick into a large saucepan. Add the sugar (the amount depends on the sweetness of the fruit), bring to a boil, and simmer for 15 minutes.
Stir the blueberries into the pan, reserving a few for garnish, and cook for 5 minutes. Add more sugar to taste if necessary.
Gradually blend the cornstarch mixture into the soup and return to a boil. Cook for 3 minutes or until the soup thickens slightly. Remove the pan from the heat and discard the cinnamon stick. Pour the soup into a bowl and leave to cool for about 30 minutes.
Combine the sour cream and light cream and stir into the soup. Cover and chill for at least 3 hours. Garnish with the reserved blueberries before serving.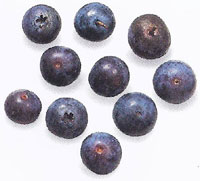 * * * Cook's know-how * * *
Red wine adds a richness and depth of flavor to this creamy soup and prevents it from tasting too sweet. Choose a robust red wine, such as a California Zinfandel or a Cabernet Sauvignon. If blueberries are not available, use dark sweet cherries instead.