Hot & Sour Soup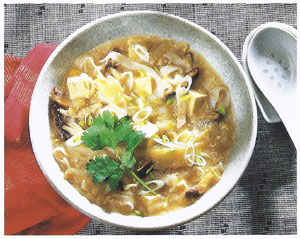 Serves 4 - 6
2 dried Chinese mushrooms
1/4 head Chinesecabbage, sliced
6 cups (1.5 liters) chicken or vegetable stock
1/4 8-oz (250-g) package Chinese noodles, such as rice sticks
salt
1/4lb (125 g) firm tofu, diced
2/3 cup (90 g) sliced bamboo shoots
2/3 cup (90 g) diced cooked chicken
1/4 cup (30 g) bean sprouts
3 tbsp cornstarch mixed with 3 tbsp water
2 eggs, lightly beaten
2 tbsp white vinegar
1 tbsp dark soy sauce
1/4 tsp each white pepper and- cayenne pepper
TO SERVE
2 tsp sesame oil
2 scallions, thinly sliced
cilantro sprigs
STEPS :
Put the mushrooms into a bowl, cover with hot water, and leave to soak for about 30 minutes.
Meanwhile, put the sliced cabbage and stock into a pan. Bring to a boil. Simmer for 15 minutes, then set aside.
Break the noodles into pieces. Simmer in boiling salted water for 3-4 minutes, until just tender. Drain and set aside.
Drain the mushrooms, reserving the soaking liquid. Pour the liquid through a strainer lined with a paper towel to remove any grit. Squeeze the mushrooms dry, then cut them into thin strips. Reserve the mushrooms and their liquid.
Add the tofu, bamboo shoots, chicken, bean sprouts, noodles, and mushrooms and their liquid to the cabbage and stock. Heat until almost boiling, then stir in the cornstarch mixture. Simmer until the soup thickens slightly, then drizzle in the beaten eggs to form strands.
Combine the vinegar, soy sauce, white and cayenne peppers and pour into the soup. Taste for seasoning. Drizzle a little sesame oil over each serving, and garnish with scallion slices and cilantro sprigs. Serve immediately.