Tasty Mushroom Soup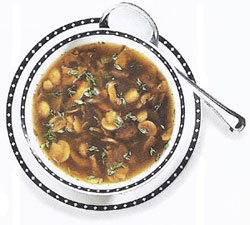 Serves 4 - 6
2 tbsp butter
1 small onion, finely chopped
1 garlic clove, crushed
1 lb (500 g) mushrooms, sliced
5 cups (1.25 liters) chicken or beef stock
2/3 cup (150 ml) dry white wine
2 tbsp chopped fresh thyme
2 tsp chopped fresh marjoram
salt and black pepper
STEPS :
Melt the butter in a large saucepan, add the onion and garlic, and cook gently, stirring occasionally, for a few minutes, until soft but not browned. Add the mushrooms and cook, stirring occasionally, for 10 minutes.
Add the stock, wine, 1 tbsp of the thyme, the marjoram, and salt and pepper to taste. Bring to a boil, cover, and simmer gently for 10 minutes. Taste for seasoning.
Serve hot, sprinkled with the remaining fresh thyme.