Cuban Corn & Seafood Soup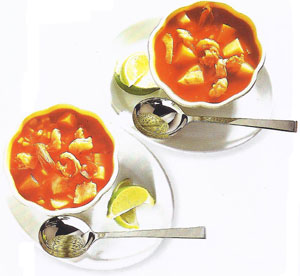 Serves 4
2 tbsp butter
1 small onion, chopped
2 garlic cloves, crushed
1 lb (500 g) frozen corn kernels
1/4 lb (125-g) piece of pumpkin, peeled and cut into chunks
1 waxy potato, cut mto chunks
1 mild, fresh red chili, cored, seeded, and chopped
5 cups (1.25 liters) fish, chicken, or vegetable stock
1 cup (250 ml) strained tomatoes
1 bay leaf
1/4 tsp dried thyme
salt and black pepper
1/2 lb (250 g) firm whitefish, cut into large chunks
lime wedges to serve
STEPS :
Melt the butter in a large pan, add the onion and garlic, and cook gently for a few minutes until soft but not browned. Add the corn, pumpkin, potato, and chili, and cook, stirring occasionally, for 5 minutes.
Add the stock, tomatoes, bay leaf, thyme, and salt and pepper to taste, and bring to a boil. Simmer, uncovered, stirring occasionally, for 15 minutes or until the pumpkin and potato pieces are just tender.
Add the fish to the soup, and heat through gently, cooking just until the chunks become opaque.
Remove the bay leaf and discard. Taste for seasoning. Serve the soup immediately, accompanied by wedges of lime.
* * * Cook's know-how * * *
Any firm whitefish or shellfish may be used in this soup. Be careful not to overcook the pieces of fish or they will disintegrate.