Rich Fish Soup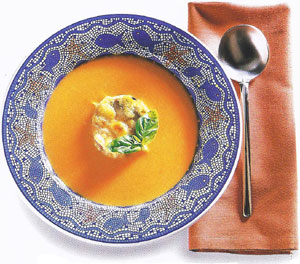 Serves 4
1/4 cup (60 ml) olive oil
2 leeks, trimmed and chopped
1 celery stalk, chopped
1 potato, chopped
1 carrot, chopped
1/2 red pepper, chopped
3 garlic cloves, chopped
2 medium large tomatoes, peeled, seeded, and chopped
1 lb (500 g) mixed whitefish fillets, chopped
1 quart (1 liter) fish stock
2 cups (500 ml) dry white wine
5 basil sprigs
1 tsp chopped parsley
1/4 tsp dried mixed herbs
1/4 tsp cayenne pepper
salt and black pepper
Gruyere croutes and basil sprigs to garnish
STEPS :
Heat the oil in a large saucepan, add the leeks, celery, potato, carrot, red pepper, and garlic, and cook gently, stirring occasionally, for 5 minutes or until the vegetables are just soft.
Add the tomatoes and fish and cook for 3 minutes. Add the stock, wine, basil, parsley, and mixed herbs and bring to a boil. Simmer for 35 minutes.
Puree the soup in a food processor or blender until smooth. For a very smooth consistency, work the soup through a sieve after pureeing.
Return the soup to the rinsed-out pan and reheat gently. Add the cayenne pepper and salt and pepper to taste.
Serve immediately, garnished with Gruyere croutes and basil sprigs.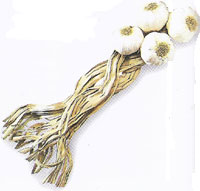 * * * Cook's know-how * * *
This delicious soup is based on the French soupe de poisson. For an interesting flavor in the finished soup, use several types of whitefish, such as cod, haddock, monkfish, and red and gray mullet. The soup is pureed, so small pieces and scraps of fish are fine.