Clam Chowder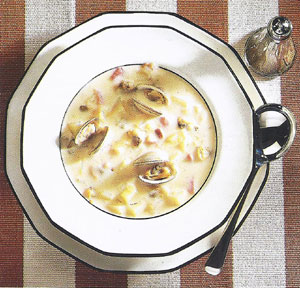 Serves 4
1 lb (500 g) clams in shells, cleaned (page 106)
1 cup (250 ml) fish stock
3 tbsp butter
1 onion, chopped
1/3 cup (90 g) diced salt pork
2 tbsp all-purpose flour
2 potatoes, diced
3 cups (750 ml) milk
1 bay leaf
salt and black pepper
STEPS :
Put the clams into a large saucepan, add the fish stock, and bring to a boil. Lower the heat, cover, and cook over medium heat for 5-8 minutes, until the clam shells open.
Discard any clams that have not opened. Set aside a few clams in their shells for garnish and keep warm. Remove the remaining clams from their shells. Discard the shells and strain the cooking juices.
Melt the butter in a large pan, add the onion, and cook gently, stirring, for a few minutes until soft but not browned. Add the salt pork, and cook for 1 minute. Then add the flour, and cook, stirring, for 1-2 minutes.
Add the potatoes, milk, strained clam juices, and bay leaf to the pan. Bring to a boil, then lower the heat and simmer for 15 minutes. Add the shelled clams, and reheat gently for about 5 minutes. Remove the bay leaf and discard.
Add salt and pepper to taste. Serve immediately, garnished with the reserved clams in their shells.
Which chowder?
Some people hold very firm views about the best way to make this classic recipe. This version is for New England clam chowder; Manhattan clam chowder omits the milk but adds tomatoes and green peppers.