Chinese Crab & Corn Soup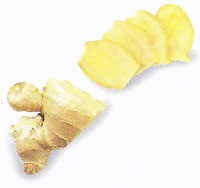 Serves 4
12 oz (375 g) frozen corn kernels, thawed
1 quart (1 liter) chicken stock
3 scallions, thinly sliced
1/2 in (1-em) piece of fresh ginger, peeled and chopped
1 garlic clove, crushed
1 tbsp light soy sauce
1/21b (250 g) cooked crabmeat
1 tbsp cornstarch mixed with 2 tbsp water
salt and black pepper
sesame oil and cilantro sprigs to serve
STEPS :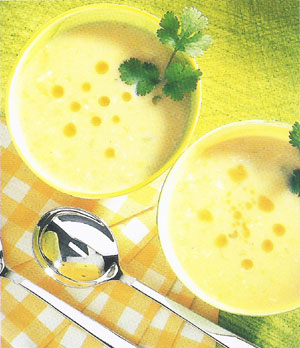 Puree the corn with one-quarter of the stock in a food processor or blender until smooth.
Pour the remaining stock into a pan and add the scallions, ginger, garlic, and soy sauce. Heat until the liquid bubbles at the edge.
3 Add the crabmeat and the corn puree and continue to heat until bubbles form again. Blend the cornstarch mixture into the soup and cook, stirring occasionally, for 10 minutes or until it thickens slightly. Add salt and pepper to taste.
Drizzle a little sesame oil over each serving, garnish with cilantro sprigs, and serve immediately.