Souffle Crepes With Broccoli & Cheese
Serves 8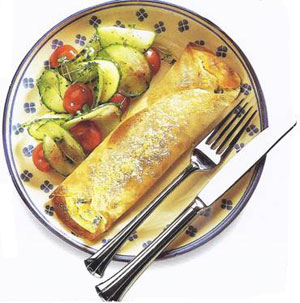 8 crepes
butter for greasing
2 lbsp grated Parmesan cheese
FILLING
1 1/3 cups (125 g) tiny broccoli florets
salt and black pepper
3 tbsp butter
1/3 cup (45 g) all-purpose flour
1 1/4 cups (300 ml) milk
1/2 tsp Dijon mustard
1 cup (125 g) grated aged Cheddar cheese
4 eggs, separated
STEPS :
Make the filling: blanch the broccoli florets in boiling salted water for about 1 minute. Drain, rinse under cold running water and drain again.
Meltthe butter in a small saucepan, add the flour, and cook, stirring occasionally, for about 1 minute.
Remove the pan from the heat and gradually blend in the milk. Bring to a boil, stirring until thickened. Remove from the heat and add the mustard, cheese, and salt and pepper to taste. Leave to cool slightly.
Beat the egg yolks into the sauce. In a large bowl, whisk the egg whites until soft peaks form, then fold into the cheese sauce with the broccoli florets.
Put the crepes on 2 lightly buttered baking sheets. Divide the souffle mixture among the crepes, arranging it down the middle of each one. Fold the sides of each crepe loosely over the top of the filling, and sprinkle with grated Parmesan cheese.
Bake in a 400癋 (200癈) oven for 15-20 minutes, until the souffle mixture has risen and the crepes are crisp.