Potato Omelet
Serves 4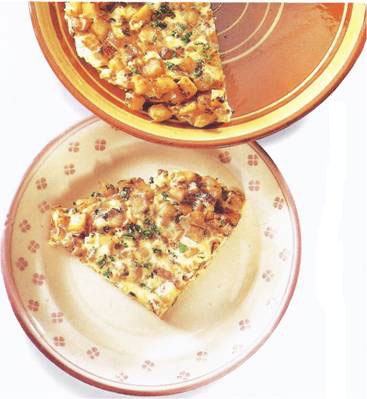 3 tbsp olive oil
2 large potatoes, diced
2 large onions, chopped
6 eggs
salt and black pepper
1 tbsp chopped parsley
STEPS :
Heat the oil in a skillet, add the potatoes and onions, and stir until coated with the oil. Cook gently for about 10 minutes until golden brown. Pour the excess oil from the pan.
Break the eggs into a bowl, season with salt and pepper to taste, and beat with a fork.
Pour the eggs into the pan and mix with the vegetables. Cook for about 10 minutes, until the eggs are almost set, then brown the top of the omelet under the broiler for 1-2 minutes.
Slide the omelet onto a warmed plate and cut into quarters. Sprinkle with chopped parsley and serve warm or cold.

MIXED BEAN OMELET
Lightly cook 2/3 cup (60 g) thin green beans and 3/4 cup (125 g) shelled fava beans. Add to the pan after cooking the potatoes and onions and stir to coat in the oil. Add the eggs and proceed as directed.
Tortilla
Omelets are a traditional part of the Spanish tapas - a selection of small, tasty dishes often served with sherry or other drinks. This substantial omelet, known in SPain as "tortilla, " can be served warm or cold, but not chilled.