Huevos Rancheros
Serves 4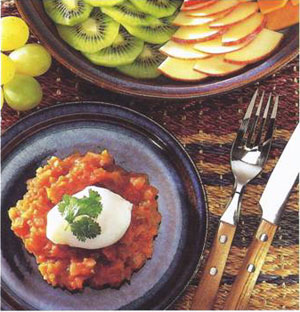 2 tbsp sunflower or corn oil
1 onion, finely chopped
3 gaTlic cloves, crushed
1 green pepper, cored, seeded, and chopped
1-2 fresh green chilies, cored, seeded, and chopped
2 large tomatoes, peeled, seeded, and diced
1 tsp ground cumin
114 tsp sugar
salt
2 tbsp vinegar
4 eggs
cilantro sprigs to garnish
STEPS :
Heat the oil in a skillet, add the onion, garlic, green pepper, and chilies, and cook gently, stirring occasionally, for about 5 minutes until the onion is soft.
Add the tomatoes, cumin, sugar, and salt to taste and simmer, stirring occasionally, for 10 minutes or until the mixture is thick.
Meanwhile, poach the eggs: add the vinegar to a large pan of boiling water. Lower the heat so that the water is simmering and slide in the eggs, one at a time. Swirl the water around the eggs to make neat shapes. Simmer for 4 minutes. Lift out with a slotted spoon.
Taste the tomato sauce for seasoning, and ladle onto serving plates. Top each of the servings with a poached egg and garnish with a cilantro sprig.

HUEVOS RANCHEROS WITH CHEESE
Fry the eggs instead of poaching them. Transfer the eggs to serving plates, top with the sauce, and sprinkle with 112 cup (60 g) grated aged Cheddar cheese. Serve immediately.