Mediterranean Zucchini Pie
Serves 4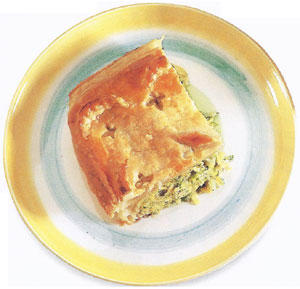 1 lb (500 g) zucchini
1 cup (90 g) grated Parmesan cheese
3/4 cup (90 g) grated mozzarella or Fontina cheese
2 eggs, lightly beaten
2-3 tbsp store-bought pesto
2-3 garlic cloves, crushed
1 tsp dried mint
salt and black pepper
1/2 lb (250 g) puff pastry
beaten egg for glazing
* 9-in (23-cm) square baking dish or pan
STEPS :
Grate the zucchini. Put-them into a colander to drain for about 10 minutes. (If they seem bitter or very wet, toss them with a little salt and leave for 10 minutes longer, then rinse with cold water.) Squeeze dry, then blot with paper towels.
In a large bowl, combine the zucchini with the Parmesan and mozzarella cheeses, eggs, pesto, garlic, min t, and salt and pepper to taste. Spoon the mixture into the baking dish.
Roll out the pastry into a rough square, about 1 in (2.5 cm) larger than the dish and 1/8-1/4 in (3-5 mm) thick. Cover the dish with the pastry, trimming the edges. Cut slits in the top with a knife.
Using a pastry cutter, cut out shapes from the trimmings. Brush the top of the pie with beaten egg, arrange the pastry shapes on top, and glaze them with the beaten egg.
Bake the pie in a preheated oven at 400癋 (200癈) for 15-20 minutes, until lightly browned on top and puffy.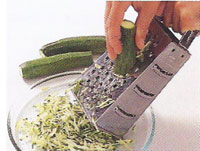 Grating zucchini
Grate zucchini onto a plate, using the large holes of a grater and making firm, downward strokes.