Savory Souffle Omelet
Make 2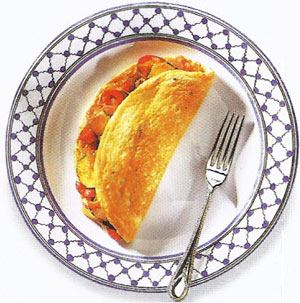 4 eggs, separated
2 tbsp butter
FILLING
2 tbsp olive oil
1/2 onion, thinly sliced
1 garlic clove, crushed
1 zucchini, sliced
1 red pepper, cored, seeded, and sliced
8 oz (250 g) canned chopped tomatoes
1 tbsp chopped fresh thyme salt and black pepper
STEPS :
Make the filling: heat the oil in a skillet, add the onion and garlic, and cook gently for 5 minutes or until softened. Add the zucchini and red pepper and cook for 2 minutes. Add the tomatoes, thyme, and salt and pepper to taste and simmer for 20 minutes.
Beat together the egg yolks and salt and pepper to taste. Beat the egg whites until stiff, then fold into the yolks.
Melt half of the butter in an omelet pan. When it foams, add half of the egg mixture and cook over gentle heat for 3 minutes. Add half of the filling, fold the omelet in half, and serve. Repeat with the remaining eggs and filling.