Croque Senor
Serves 4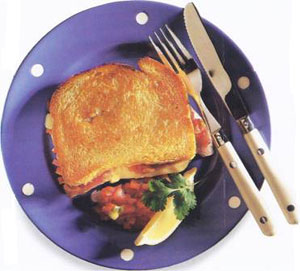 8 slices of white bread
4 slices (250 g) Cheddar cheese
4 slices of ham
2 tbsp butter, softened
lemon wedges and cilantro sprigs to serve
SPICY TOMA TO SALSA
3 tomatoes, peeled, seeded, and finely chopped
1 red pepper, cored, seeded, roasted, and peeled, finely chopped
1 garlic clove, crushed
2 scallions, thinly sliced
1 fresh green chili, cored, seeded, and chopped
1 tbsp red wine vinegar
salt
STEPS :
Make the salsa: combine the tomatoes, red pepper, garlic, scallions, chili, and vinegar in a bowl. Add salt to taste and set aside.
Put 4 slices of bread on a board and arrange the cheese slices, then the ham slices, on top. Spoon the salsa over the ham.
Lightly spread the butter over one side of the remaining slices of bread and put them, butter side up, on top of the salsa.
Heat a heavy skillet and cook each sandwich, butter side down, over medium-high heat, until the cheese begins to melt and the bread becomes golden. Lightly spread the second side of each sandwich with butter. Turn over and cook the other side until golden.
Garnish with lemon wedges, cilantro sprigs, and any remaining spicy tomato salsa. Serve at once.
Croque senor
This is an unusual variation of croque monsieur, the classic French grilled cheese and ham sandwich, The spicy tomato salsa adds a tangy Mexican flavor to the filling.