Eggs Benedict
Serves 4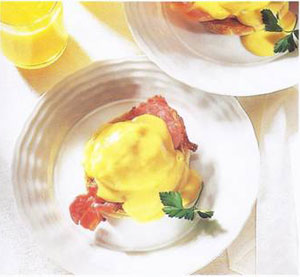 8 slices of lean Canadian bacon
2 English muffins, halved
2 tbsp vinegar
4 eggs
butter for spreading
flat-leaf parsley to garnish
HOLLANDAISE SAUCE
2 tsp lemon juice
2 tsp white vinegar
3 egg yolks, at room temperature
8 tbsp (125 g) unsalted butter, melted
salt and black pepper
STEPS :
Cook the bacon under the broiler, 3 in (7 cm) from the heat, for 5-7 minutes, until crisp. Keep the bacon warm.
Toast the cut sides of the muffin halves under the broiler. Keep the muffin halves warm.
Make the hollandaise sauce: put the lemon juice and white vinegar into a small bowl, add the egg yolks, and whisk with a balloon whisk until light and frothy.
Place the bowl over a pan of simmering water and whisk until the mixture thickens. Gradually add the melted butter, whisking constantly until thick. Season. Keep warm.
Poach the eggs: add the vinegar to a large pan of boiling water. Lower the heat so that the water is simmering and slide in the eggs. Swirl the water around the eggs to make neat shapes. Simmer for about 4 minutes. Lift out with a slotted spoon.
Butter the muffins and put onto warmed plates. Put 2 bacon slices and an egg on each one, and top with the sauce. Serve immediately, garnished with parsley.

SPICY LIME HOLLANDAISE
Substitute 2 tsp lime juice for the lemon juice in the hollandaise sauce and add 1/2 tsp each of paprika and mild chili powder.